In late 1996, a new craze took Japan by storm. This fad allowed people to adopt a pet without the usual problems and expenses.
[ad#badfads-336×280]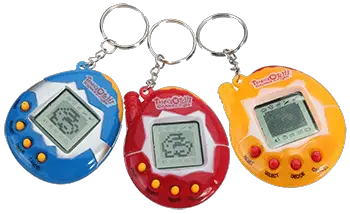 The cause of the craze was a new toy called "Tagemotchi" which would become popular in the United States under the name "virtual pets."
The toy was small, the size of an egg and could serve as a keychain. It had a small screen three buttons and the star of the show was an on screen chicken. After hatching from an egg, the bird lived the life of…, well, a bird – it eats and it goes to the bathroom. Their owner's job was to manipulate the three buttons to feed, play with and clean up after the bird. So long as the animal is properly cared for, it will grow happily and normally. If, however, the owner neglected the bird's needs, it would beep (or peep). If the neglect continues, the bird will begin to feel sickly, will become weak and eventually will die.
If this sounds like a strange and silly concept, it soon became a goldmine for Bandai, its distributor. It sold for $16.00 – $18.00 and sold more than 500,000 units within the 1st two months of its release. This only seemed to create an even greater demand, so much so that they sold on the black market for more than $400.00.