In December 1979, Chris Haney got together with his friend Scott Abbott and the two decided to create a new board game.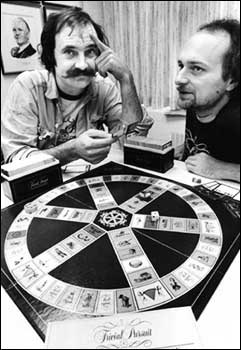 In the elegant parlors of Upper East Side townhouses and the trendy lofts of Brooklyn, a particular board game, replete with its iconic pie-shaped player pieces, is seeing a renaissance. "Trivial Pursuit," a game that once defined the 1980s with its challenge to general knowledge aficionados, has re-emerged as a darling of contemporary game nights.
A Brief Stroll Down Memory Lane
Introduced in 1979 by Scott Abbott and Chris Haney, two Canadian journalists, "Trivial Pursuit" was a reaction to their realization that pieces of their Scrabble game were missing. Turning their misfortune into opportunity, they designed a game that quizzed players on a broad range of categories. Little did they know that they were on the brink of creating a cultural phenomenon.
After many concepts and iterations thereof, they finally settled on a fairly simple idea – a game that dealt with the who, what, why, where, and when. Chris' wife suggested the name Trivial Pursuit and it stuck.
The goal of the game is to earn wedges by answering questions from four of the six categories. The categories are represented by different colors and by answering a question correctly, you receive a matching color wedge. After earning four different wedges, you are then looking to move to the center of the board where you will have an opportunity to answer a final question in order to win.
After forming a company, Haney and Abbott began seeking investors and raised enough money to manufacture the board games. Although he initial lot of 1,000 game sets cost $75.00 each, they were able to attract the attention of game-maker Selchow and Righter and they reached an agreement where Selchow and Righter helped to initiate a public relations and marketing strategy which helped to turn the game into a hit. Five years after developing the game, more than 3.5 million game sets had been sold. One year later, they sold 20 million units and by 2000 they had sold more than $1 billion dollars worth of game sets as the United States went Trivial Pursuit crazy.
From Humble Beginnings to Global Stardom
By the mid-1980s, "Trivial Pursuit" had found its way into homes worldwide, selling over 20 million units in 1984 alone. But what was it about this game that captivated the masses? Perhaps it was the perfect blend of competition, learning, and the sheer joy of outsmarting one's opponents with tidbits of knowledge.
In Conclusion
Eventually, the game began to sweep the nation began to sweep the world as it was distributed in various languages and in different formats (including handheld electronic, desktop computer, and online web-based versions) Only time will tell whether their success will parallel that of board games like Scrabble but their PURSUIT of success was not so TRIVIAL after all.