In 1971, nothing was more charming than seeing a smile button fastened to a lapel. It was a pair of black eyes above a broad smile that depicted the seventies.
[ad#badfads-336×280]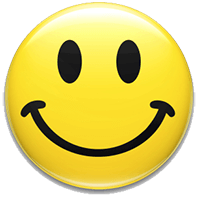 A New Yorker named N.G. Slater manufactured "The Smiley" in 1969, but did not make it big until the spring of 1971. At this time, the market was drowning with this face. You could find this image on earrings, lights, rugs, even Cartier created a special order gold smile. It also became the perfect logo – used by George McGovern and Good Humor Ice Cream.
These smile buttons made manufacturers smile from ear to ear. They were making millions on this craze. But by the mid 1970s, manufacturers added the "Have a Nice Day" slogan to the button to enhance sales. Unfortunately, the buttons were made fun of and slowly went out of fashion.