The slogan button was first used in 1896 in the presidential campaign between McKinley and Bryan, but became a means to make political statements and sexual innuendoes in the sixties.
[ad#badfads-336×280]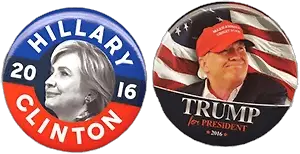 These decorative buttons made out of a piece of paper with a printed message, celluloid, and a metal backing, were covering hippies' backpacks and young students' book bags everywhere.
Many buttons denounced the Vietnam war: "Make Love, not War " and "Draft beer, not boys," while others simply promoted sex: "If it moves, fondle it." "If it feels good, do it." As the fad continued into the seventies the mottos became less political and more meaningless for example: "Mary Poppins is a junkie." In 1971, the Smiley Face button took over the market. Within six months, 20 million of these simple yellow buttons were sold. The Happy Face represented the Peace, Love, and Happiness the "flower children" of the 70s craved.
Soon, the fad was not limited to the hippie community. Many conservatives wore their own versions, as well as school teachers, businessmen, political candidates, etc. However, by the mid-seventies, the fad began to die out altogether, and before long people preferred displaying their pithy remarks on t-shirts.