Skateboarding began in the areas surrounding California beaches in the early 1960s. Although its popularity grew slowly at first, by 1965 it became a huge national craze and an extraordinarily profitable industry.
[ad#badfads-336×280]The first boards came with four metal wheels attached to a wooden board and offered little in the lines of safety or comfort. This didn't stop millions of riders from buying them. In 1965 alone, more than $100 million dollars worth were sold. Magazines devoted to skateboarding popped up as did accessories and clothing lines, and in May of that year, a national skateboarding championship took place.
Unfortunately, as with most fads, skateboarding had its critics and these critics looked to curtail the sport's growth and popularity. Parents groups and state and local officials declared the boards safety hazards and public nuisances. Many communities initiated ordinances outlawing the use of the boards, causing a steady decline in their sales. In the early 1970s, however, technologies developed which brought about urethane skate wheels, which provided for safer, smoother rides and more control. Thus, by 1976, skateboarding sales skyrocketed to more than $250 million and communities began building skateboard parks and skateboard bowls in order to accommodate the publics renewed interest.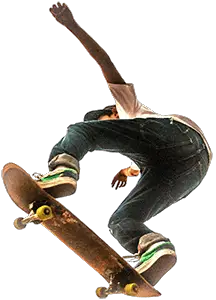 Skateboarding was a fad, in that the growth in its popularity was so explosive. It has, however, remained very strong over the years and remains so today.
[ad#badfads-728×15]