In 1915, Johnny Gruelle was a political cartoonist in New York with a young daughter. While looking around his attic, he stumbled upon an old rag doll, which after years of wear and tear, had faded in appearance. Gruelle decided to hand-draw a new face on the doll and gave it to the little girl.
[ad#badfads-336×280]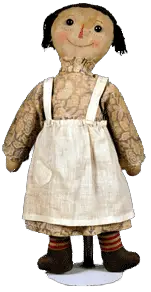 Gruelle was a friend of noted poet James Whitcomb Riley, the creator of Little Orphan Annie. With that in mind, he named the rag doll Raggedy Ann. He used the doll as a model for a cartoon he drew for the New York "World" and then wrote a book called "Raggedy Ann Stories." The growing popularity if the character drove him to create a companion which he named Raggedy Andy. The dolls both had shoe-buttons for eyes, red yarn for hair, and striped socks. Ann wore a print dress and Andy a checkered shirt with blue slacks. Both also had a heart, upon which was written the words "I Love You."
Over the next twenty years, more than ten million copies of Raggedy Ann and Andy books were sold. Gruelle died in 1938 but his work has continued to be an important part in the lives of millions of children around the world.