In 1927, Eduard Haas, an Austrian candy executive, developed a small candy mint which he called PEZ (short for pfefferminz, the German word for peppermint).
[ad#badfads-336×280]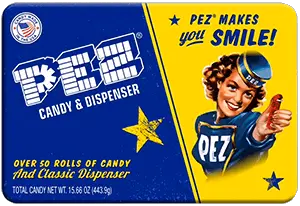 The peppermint candies were stored in a small tin and sold fairly well for more than 20 years. Initially it was marketed as a tasty alternative to cigarettes for adults attempting to quit smoking.
In an effort to boost sales and develop a brand identity for the PEZ mints, the first pez dispensers were introduced in 1948. The original dispensers did not have the trademark heads which were introduced four years later. These dispensers had cartoon heads and became very popular with children who traded them back and forth. These early dispensers are now very much in demand and are valued treasures among collectors.
More than 3 billion PEZ candies are consumed each year and is sold in more than 60 countries around the world but the candies have become almost a secondary item serving as an accessory for the dispensers of which more than 300 have been issued.