For those who were too small or too young to grip the handles of a motorcycle, minibikes were a suitable alternative.
[ad#badfads-336×280]Minibikes were about 4 feet tall, weighed as little as 65 pounds, and had wheels about 10 inches in diameter. With a frame like that, they didn't go very fast – but no one seemed to care.
As minibikes progressed, they soon came available with engines, brakes, suspension and headlights. They became more popular for off-roading than to race. Minibikes managed well in rough terrain and were not damaged with a fall.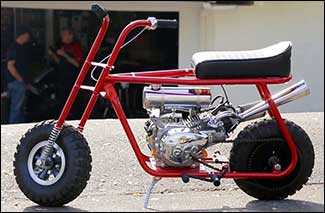 Because of the small size of the bikes and the young age of the drivers, minibikes were outlawed on main roads. Children began seriously injuring themselves by driving on streets where cars could not see them. By 1973, with the law was much stricter with minibikes and with the first generation of enthusiasts graduating to real motorcycles, minibikes purchases slowly started to fade.