The original craze surrounding the game of mahjong was directly tied to supply and demand – the harder it was to get the game, the more people wanted it.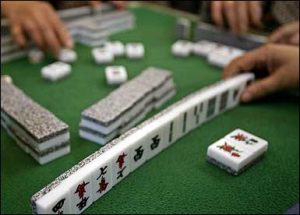 [ad#badfads-336×280]Mahjong was played for at least 2,400 years in China and was brought to the United States by Chinese immigrants settling in San Francisco. When the game first arrived, the game pieces and instructions were written in Chinese. English language versions of the game were rare and therefore very expensive (selling for as much as $200 per set). As such, only the wealthy could purchase and play the game and it quickly became a status symbol — and everyone wanted to be one of the haves (as opposed to a have not).
The game's popularity crossed the country into the Northeastern states and was hyped by the society editors of the major newspapers and magazines which furthered the craze.
Mahjong is played by piling rectangular chips in a structured pile. Each chip has a particular picture on its face and the object of the game is to find two matching chips that are not blocked on the outside by another chip. These matched pieces are removed from the pile and the players continue until there are no chips left.
[ad#badfads-728×15]
Because of the overwhelming demand for the game, new businesses sprang up as early players became "experts" and began teaching classes on Mahjong and writing instructional guides.
Game manufacturers began furiously developing less expensive versions and making them available to the masses. By 1925, the furor surrounding the game had subsided but its popularity continued for some time.