"Kilroy was here!" The message appeared mysteriously all over Europe and the Pacific during World War II.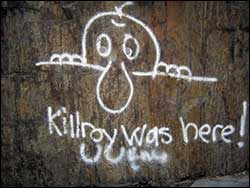 Introduction
"Kilroy Was Here" – this simple phrase, often accompanied by a cartoon doodle of a bald-headed man peeking over a wall, has intrigued, amused, and puzzled generations. Originating during World War II, it became one of the first widespread memes and is a cultural icon that remains instantly recognizable to this day. Let's delve into its history, significance, and enduring legacy.
The phrase was scrawled on desolate beachheads, notable landmarks, and on walls everywhere. The message was believed to have been left by an American, although it was often discovered by the first American troops to enter areas formerly occupied by enemy troops. The phrase irritated German and Japanese troops to no end but delighted (and also bewildered) American forces as it added much-needed levity to the brutality of war. It also provided a great deal of mystery about who Kilroy was and how he got to so many areas of the war before anyone else.
Origins: The Man Behind the Meme
Kilroy was not the only one of his kind during World War II. The Canadians had their version (Clem) and the British had two (Chad and Mr. Foo), and there was one central to Los Angeles, California. At the conclusion of the war, the American Transit Association decided to put a face on the mysterious Mr. Kilroy. The Association sponsored a contest through its radio program"Speak to America" to draw out the phantom.  Nearly 40 men stepped forward claiming the persona, but they declared James J. Kilroy of Halifax, Massachusetts the "Kilroy". Mr. Kilroy explained that he was an inspector at the Fore River Shipyard in Quincy, Massachusetts and as part of his work he would check to see the number of rivets that had been completed each day and would mark a chalk line where the work had ended. Some of the riveters, however, would go behind him and erase the chalk marks. Thus when a second-shift inspector came by, not seeing the chalk marks, he would mark them again and thus the riveters would be paid twice for their work. Once wise to their game, Kilroy decided to include his name in big bold letters stating that "Kilroy was here" as well as the amusing drawing. The riveters' deception ended soon thereafter.
Chalk marks were usually painted over during production but because of the speed with which ships were rolling off of the assembly line, many left with her "signature still on them and servicemen across heading to battle took the phrase with them, scrawling Kilroy was here on bridge and landmarks throughout the European and Pacific theaters. Soon servicemen claimed to have stormed the beaches in the Pacific islands only to the the famous phrase already scrawled there. On famous story claims that a special outhouse was built for Franklin Roosevelt, Josef Stalin, and Winston Churchill during the Potsdam Conference. Stalin, who used the outhouse first, reportedly asked  one of his aids "Who is Kilroy?"
In order to prove that he was the real "Kilroy" he brought forth co-workers from the shipyard, as well as some of the riveters, who vouched for his story. The Association awarded him a 22-ton streetcar which he eventually converted into sleep quarters for some of his children.
A Symbol of Presence and Unity
As the war progressed, American soldiers began scribbling the phrase everywhere they went. From European battlegrounds to Pacific islands, "Kilroy Was Here" became a ubiquitous mark of the American military presence.
The doodle and phrase signified a shared experience among servicemen. It became a beacon of camaraderie, an in-joke among soldiers, and a symbol of the expansive reach of the American forces.
Beyond the War
The popularity of "Kilroy Was Here" didn't end with the conclusion of WWII. Soldiers brought the meme back to the U.S., and it quickly permeated into popular culture. It became a symbol of the Greatest Generation's indomitable spirit and a shared piece of their wartime experience.
4. The Legacy Lives On: "Kilroy Was Here" remains an indelible part of modern culture. From pop music to television, its influence is evident. It represents more than just a wartime doodle; it's a testament to humor, resilience, and the shared experiences of those in challenging circumstances.
Some notable instances in pop culture include:
U2's tenth studio album, "Achtung Baby," featured a song titled "The Fly," where Bono sings, "Every artist is a cannibal, every poet is a thief; all kill their inspiration and sing about their grief."
Styx's 1983 rock album titled "Kilroy Was Here."
Conclusion:
"Kilroy Was Here" began as a simple mark, but its significance transformed as it journeyed through war zones and post-war America. It has come to symbolize the unity, resilience, and humor that characterized a generation. In understanding its history, we gain insight into the lived experiences of the soldiers of WWII and the ways in which culture and memory interweave to create enduring symbols.
James Kilroy died in Halifax on Nov. 24, 1962.