As a reward from a hard day of work it was certainly a welcome sight, but as a sexy source of relaxing fun, the hot tub was a definite favorite.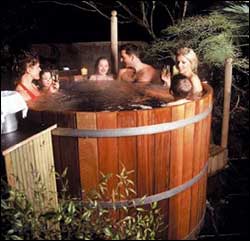 When one thinks of relaxation and indulgence, few images come to mind as readily as a soothing soak in a hot tub. The bubbling warmth, the gentle steam rising into the crisp night air, and the sense of utter relaxation have made hot tubs a beloved feature of backyards, resorts, and wellness centers around the world. But have you ever wondered about the history of these luxurious vessels of comfort? The story of hot tubs is a journey through time, taking us from ancient cultures to modern spa innovations. Though very similar to spas, Jacuzzis and whirlpool baths, hot tubs were favored in part because they could be built to be used indoor or out, and were viewed as a weekend aphrodisiac.
Ancient Beginnings: The Birth of Hydrotherapy
The history of hot tubs can be traced back to ancient times when various cultures discovered the therapeutic benefits of soaking in hot water. The ancient Greeks, for instance, constructed elaborate bathhouses that featured heated pools filled with warm water. These communal baths were gathering places for socializing and rejuvenation.
However, it was the ancient Romans who truly elevated the concept of hydrotherapy. The Romans built intricate bathhouses with an elaborate system of aqueducts to supply hot and cold water. These communal baths, or "thermae," played a pivotal role in Roman society, serving as centers of relaxation, social interaction, and healing.
Japanese Ofuro: A Zen Connection
In the East, the Japanese developed their own version of hot tubs called "ofuro." These deep, wooden soaking tubs are traditionally used for relaxation and purification. Ofuro rituals hold a deep significance in Japanese culture, as they are seen as a way to cleanse both the body and the mind. The practice of soaking in an ofuro is considered a meditative and restorative experience.
The Birth of the Modern Hot Tub
Fast-forward to the 20th century, and hot tubs as we know them began to take shape. In the 1950s, a group of engineers and inventors in California experimented with ways to bring the relaxation of soaking in hot water into the home. The result was the first whirlpool bath, which utilized jets to create a massaging effect on the body.
The term "hot tub" gained popularity in the 1960s, thanks in part to the work of the Jacuzzi brothers, who developed a portable and self-contained version of the hot water bath. This innovation made it possible for people to enjoy hot tubs in their own homes, transforming them from a luxury item to a household staple.
The Hot Tub Boom: A Social Phenomenon
By the 1970s, hot tubs were becoming a cultural phenomenon. The freewheeling spirit of the era embraced the idea of communal hot tub parties, and they became synonymous with relaxation, hedonism, and social bonding. Movies and TV shows often depicted characters enjoying hot tubs, further embedding them in the popular imagination. The cost of a hot tub was significant, often costing as much as an entire swimming pool but they also came in several colors, styles and types of wood. The hot tub craze took off during the late 1970's, starting in California, with close to 400,000 sold in 1979 alone. Unfortunately, when something gets very popular, there seem to be people bent on finding a way of ruining the fun. First experts came out of the woodwork warning of the dangers posed by the tubs (indeed they were able to point to an incident where a California couple died because they turned the heat in the tub too hot and then stayed in for longer than recommended.) Warnings arose claiming that women could suffer numerous medical problems, including venereal diseases from the warm waters of hot tubs. This fear was only heightened with the AIDS scare in early 1980. The misinformation that came out at this point caused people to shy away from the tubs as fast as they had clamored to them and the craze soon petered out.
Sustainable Innovations and Wellness Retreats
In recent years, hot tubs have undergone a resurgence, with an emphasis on sustainability and wellness. Many modern hot tubs are designed with energy-efficient features, such as better insulation and advanced heating systems. Additionally, hot tubs have found a home in wellness retreats and spas, where they are used in hydrotherapy sessions to promote relaxation, stress relief, and physical healing.
Conclusion: A Timeless Tradition
The history of hot tubs is a testament to the enduring appeal of relaxation and self-care. From ancient bathhouses to modern backyard sanctuaries, hot tubs have evolved and adapted to suit the needs and desires of each era. Today, they continue to be cherished for their ability to provide a respite from the hustle and bustle of daily life. So, the next time you sink into the warm embrace of a hot tub, remember that you are partaking in a tradition that spans centuries—a tradition dedicated to the art of relaxation and well-being.