An urban legend holds that a young teenager stepped up his role playing in the game Dungeons and Dragons™ and took it to the sewer system of New York City.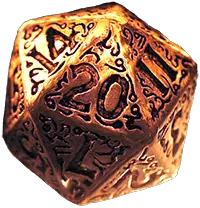 A few months later, it is told, the lad was found wandering about the underground pipes with a shock of white hair and appeared to be stark raving mad. Such is the view that many have of the game, with some claiming it promotes sex and violence and others linking it to witchcraft and satanic worship. Despite these concerned warnings, an even greater number of people enjoyed playing the game as an estimated three million players took part in the game in 1982.
The game was created in 1974 by Gary Gygax, a former insurance salesman. Gygax developed the game as an extension of his interests in military strategy and science fiction fantasy. Having been turned down by all of the major game companies, Gygax decided to start his own game company and eventually released games like "Top Secret," Boot Hill," and "Gamma World."
His bread and butter, however, was Dungeons and Dragons™, a board game focusing on warlike battles with fantasy-spawned characters. The player takes on the role of the character and accumulates tools, weapons and powers along the way. One of the players acts as the Dungeon Master who sets up the structure of the game and the other players try to work together to fight their way past monsters as they maneuver through tunnels, mazes and dungeons collecting as much treasure as possible.