In 1971, President Richard Nixon visited mainland China and when he returned, brought with him a new acceptance of many Chinese items, philosophies … and cures. One of the cures to come to the United States during this time was the healing "magic" of acupuncture.
Acupuncture: The Ancient Art of Healing Through Needles

Introduction
Acupuncture, a cornerstone of traditional Chinese medicine (TCM), has pierced its way into modern healthcare, offering an alternative approach to pain management and overall well-being. This ancient practice, characterized by the insertion of fine needles into specific body points, has been employed for thousands of years and continues to garner attention and respect globally.
Acupuncture refers to the method of precisely inserting needles into various strategic points in the body as a means of reducing and or eliminating an injury or illness. It related to a Chinese medical philosophy that an imbalance in the body's tch'i (the body's energy) could be readjusted by tapping into the acupuncture points, of which more than 900 existed.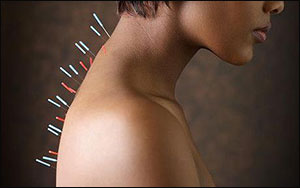 Many people claimed that acupuncture worked when no other medical treatments or procedures seemed to help. Athletes like Los Angeles Rams quarterback Roman Gabriel and San Francisco Giant slugger Willie McCovey received acupuncture treatments, as did Alabama Governor George Wallace.
The treatment was used in various manners, including diet control and as an anesthetic. The medical community supported the practice, including a New York State Board of Medicine member and White House Physician, W. E. Lukash.

The Technique
A typical acupuncture session involves the insertion of thin, sterile needles into specific points on the body. These acupuncture points correspond to different organs and systems. The depth, angle, and duration the needles are left in place can vary based on the condition being treated.

Modern Acceptance and Research
For many years, the Western medical community viewed acupuncture with skepticism. However, a growing body of scientific research now supports its efficacy. Studies have shown that acupuncture can stimulate the release of endorphins (the body's natural painkillers) and affect the pain centers in the brain.
Today, the World Health Organization (WHO) recognizes acupuncture as an effective treatment for various conditions, from migraines and joint conditions to anxiety and nausea.

Benefits and Uses
Beyond pain management, acupuncture has been used to treat various ailments, including:
Digestive disorders
Allergies
Depression and anxiety
Infertility
Insomnia
Furthermore, many patients and practitioners report improved overall well-being, energy levels, and sleep quality after treatments.
Eventually, as often happens, the mainstream medical community sought to discredit acupuncture, claiming that it only acted as a placebo and could have detrimental effects. Soon, state commissions sought stringent regulation on acupuncture, and many of the offices and treatment centers began to close down.
Acupuncture is still practiced in China and is revered for its incredible success. Perhaps, as more and more alternative healing methods are embraced, it will return in importance in the West.

Conclusion
Acupuncture's millennia-old history is a testament to the enduring search for holistic healing methods. As the boundaries between Eastern and Western medicine continue to blur, acupuncture stands as a symbol of integrative healthcare's potential, offering a time-tested approach to healing in tandem with modern medical advances.