As a reward from a hard day of work it was certainly a welcome sight, but as a sexy source of relaxing fun, the hot tub was a definite favorite.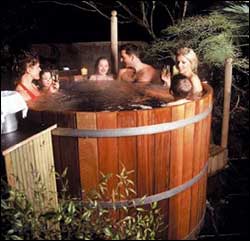 [ad#badfads-336×280]Though very similar to spas, Jacuzzis and whirlpool baths, hot tubs were favored in part because they could be built to be used indoor or out, and were viewed as a weekend aphrodisiac.
The cost of a hot tub was significant, often costing as much as an entire swimming pool but they also came in several colors, styles and types of wood. The hot tub craze took off during the late 1970's, starting in California, with close to 400,000 sold in 1979 alone. Unfortunately, when something gets very popular, there seem to be people bent on finding a way of ruining the fun. First experts came out of the woodwork warning of the dangers posed by the tubs (indeed they were able to point to an incident where a California couple died because they turned the heat in the tub too hot and then stayed in for longer than recommended.) Warnings arose claiming that women could suffer numerous medical problems, including venereal diseases from the warm waters of hot tubs. This fear was only heightened with the AIDS scare in early 1980. The misinformation that came out at this point caused people to shy away from the tubs as fast as they had clamored to them and the craze soon petered out.