Newsweek magazine declared the year 1969 the year of the commune.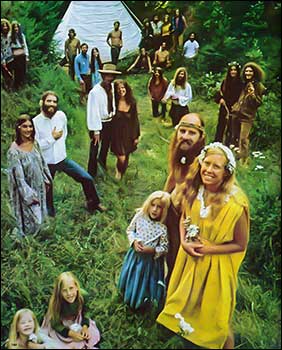 A commune could be characterized as a living arrangement in which a large group of people (usually unrelated) came together in a living arrangement and shared chores, food, clothing, and often, each other. The groups would often live together as a family, pooling their resources and abilities in order to coexist in peace and harmony.
Often categorized as being a part of the hippie culture, at one point it was believed that more than 500 communes existed, housing over 10,000 people. For the resident of the commune, everything was peace, love and harmony. From their more straight-laced neighbors, the communes represented dangerous hippies who indulged in illegal drugs, illicit sex and plots against the United States. As far off as many of the ideas were, they ultimately helped to bring about the downfall of many communes as local police were pressured to interrogate and antagonized the commune inhabitants until they gave up and moved away.