The most popular doll in the history of the United States is Barbie. Over the last 40 years, more than 100 million Barbie dolls have been sold in the around the world. Barbie has a fan club and received thousands and thousands of letters.
She has also been the subject of numerous fashion columns across the United States. She is also responsible for helping to build the biggest toy company in the world. Not bad, for a piece of plastic.
The Barbie Doll was created by Ruth and Elliot Handler, owners of a small toy company in Los Angeles. Ruth noticed that her daughter Barbara tried to dress her paper dolls with cutout clothing. They realized that young girls enjoyed this form of dress up, yet there were no three-dimensional dolls available to dress in different wardrobes (after all, how many things can you dress a baby in)? Ruth felt that girls would be far more interested in a doll that looked like a real young adult.
In 1956, the Handlers were traveling through Europe on a business trip, accompanied by their children (Barbara and Ken). While in Lucerne, Switzerland, Ruth noticed a German doll on display named Lilli. Lilli was a three-dimensional doll, with adult proportions and she was outfitted with a whole line of clothing and accessories. Lilli was everything Ruth had been thinking of as a replacement for the two-dimensional paper dolls so prominent in the United States. The Handlers spotted a magical opportunity, purchasing several Lilli dolls and bringing them back to Los Angeles where she showed them to her designers. One of the designers took a Lilli doll to Japan where he found a company to manufacture a similar doll. The result was an 11 1/2″ tall teenage doll which they named after their daughter, Barbie.
The Barbie Doll (real name Barbara Millicent Roberts from Willows, Wisconsin) debuted at the New York Toy Fair in February 1959. While buyers were initially confused to see a doll that looked so different from the popular baby dolls of the day (sears declined to sell them fearing they looked too sexy), sales of the Barbie Doll soon took off, selling out the initial line of 500,000 and over a million outfits. The dolls were marketed in major print advertisements as well as on the popular Mickey Mouse Club television show. The genius behind their concept was that even though a Barbie doll sold for only around $3.00, the real money was made in accessorizing her. Fashion designer Charlotte Johnson was brought in to create an entire wardrobe for Barbie. The different pieces of clothing cost between $1.00 – 5.00 and some young girls could not do without an entire wardrobe which sold for $136.00 in 1963. Their concept was obviously successful as they sold almost $100 million of Barbie merchandise in 1965.
After a while, Barbie fans decided that she needed a man in her life – thus came the arrival of her boyfriend Ken Carson (named after Ruth's son Ken) in 1961. She was soon joined by friends Midge and Allen and a little sister Skipper. They frolicked around in a Barbie car and resided in a Barbie house.
In 1971, Barbie had a makeover with the release of the Malibu Barbie line. In place of her brown hair she now had platinum blond locks, with a smile on her face and eyes that looked straight ahead. This would become her standard look ever since.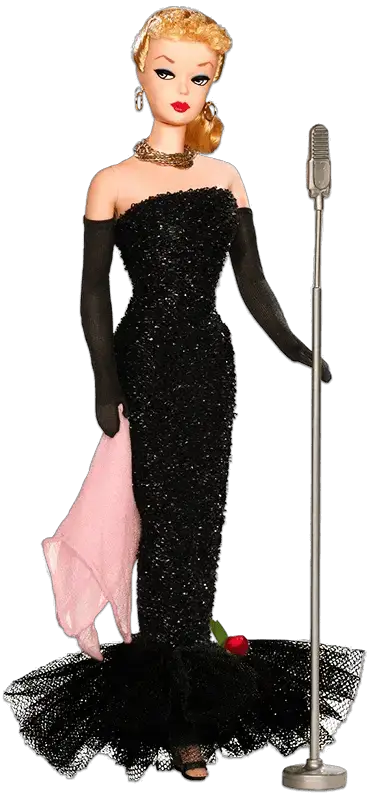 Barbie also presented an opportunity for young girls to see her as a trend-setting career woman. Barbie held a number of jobs, often as the owner of her own company. In addition to being a model, she owned her own restaurant, drove a race car, was an astronaut and even a candidate for president of the United States. In doing so, she ventured into male dominated careers and found success, demonstrating to young girls that they too could make it in a man's world. In fact, a study at Washington Lee University demonstrated that when young girls observed Barbie dressed in non-traditional clothing aimed at a career in a typical man's job, the young girls felt empowered  to be successful in that career as well.
As successful and popular as the Barbie line has been, it hasn't been without controversy. The doll has been criticized for years by feminist organizations for the dolls' disproportionate body and the effect it has on young girl's body issues. The doll is designed to represent a 5′ 9″. 110 lbs. woman.  Her measurements are the equivalent of a 36 inch bust, an 18 inch waist and 33 inch hips, clearly an unlikely standard for most women. Furthermore, at that size a modern woman would be approximately 35 underweight for that height. Even more worrisome is that a study by the University Central Hospital in Helsinki, Finland, she would lack the 17 to 22 percent body fat required for a woman to menstruate. Mattel argued that the doll's proportions were designed so the designer clothes would fit the way the would on a real person.
The Barbie also has struggled with depicting dolls with different racial backgrounds. The first attempt to reach another market was the 1967 launch of an African-American friend for Barbie, sadly named "Colored" Francie. Beyond her name, Francie did not have any African-American features besides her dark skin (she was made from the existing head molds of the white Francie doll). Another Black doll was released in 1968 named Christie and in 1980 Mattel released a new Black doll named "Black Barbie."
]Another controversy surround the 1992 release of the Teen Talk Barbie line. These Barbie's were able to speak a number of phrases including: "Will we ever have enough clothes?", "I love shopping!", "Let's plan a wedding!" and "Wanna have a pizza party?" Unfortunately, one of the 270 possible phrases included was "Math class is tough!" This led to criticism from the American Association of University Women who claimed that this not only perpetuated a stereotype of women being unable to perform in math, but inferred to young girls that it was normal. Later that year, Mattel removed that phrase from the dolls and offered to swap the old dolls for new ones. Unfortunately for the company, this provided an opening for a group called the Barbie Liberation Organization to switch the voice box chip from the  talking G.I Joe doll with the Teen Talk Barbie, which they then returned to the store. Thus young girl were surprised when their Barbie doll announced "vengeance is mine" and boys hearing their G.I. Joe say "The beach is the place for summer."
While feminists decried the body image and intellectual stereotypes the dolls seemed to perpetuate, Mattel argued that Barbie was a feminist, competing equally with men in the workplace, defining her own career and lifestyle and not sitting around pining over Ken (he and Barbie had a much hyped break-up in 2004 but eventually got back together). Instead, she had her own adventurous life with her friends and could be seen as a role-model in this aspect.
Despite these controversies, Barbie has become a staple of American culture. At one point a Barbie doll was sold every three seconds and the average Barbie owner owned about twelve dolls. It would seem that Mattel's Barbie merchandising opportunities are endless and Barbie continues to be one of the best-selling dolls and in fact, toys, year in and year out – she is also, perhaps, the most successful fashion icon in history.
References: